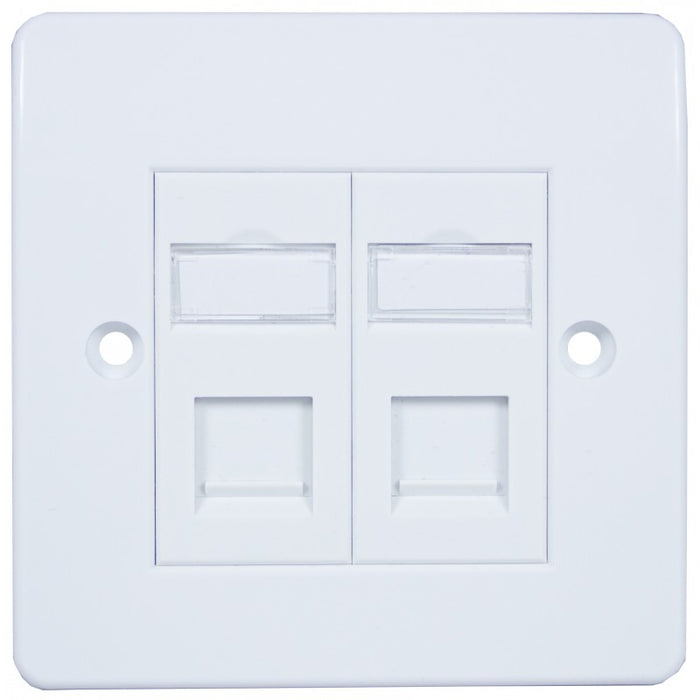 Cat6a FTP RJ45 Loaded Office Style Faceplates
SKU: 008-001-046-01
The Connectix Enhanced Category 6a loaded faceplate consists of 1 or two modules in loaded in a singlegang faceplate or 4 modules loaded in a doublegang faceplate. With their rounded corners these loaded faceplates fit perfectly onto our Office style back boxes
Ready assembled outlet, ready for installation.
Exceeds Enhanced Cat6 specification when used alongside our cable and patch panels
Module Details
The Connectix Category 6a Compact Module is designed to provide one of the shallowest wall outlets on the market. They are the ideal solution wherever back-box depth is a problem.
The attractive high gloss finish and easy to use labelling system is identical to all other Connectix Cabling Systems Modules, making them interchangeable in most applications.
Category 6a compact modules can be fitted into single or dual gang Euro faceplates and can be combined with quarter blanks and/or voice modules to provide the required configuration.
Connectix Category 6a Modules are fully compliant with the ANSI/TIA Category 6a Standard. When used in conjunction with Connectix Category 6a Patch Panels and FTP Cable the user will get a link performance exceeding the Category 6a requirements.
Features:
Suitable for Gigabit Ethernet applications
Shallow design requires minimal back-box depth
Interchangeable with all other Euro modules and quarter blanks
Fits all standard Euro faceplates
Individually QA tested
 Specification:
Width - 25mm
Depth - 21mm
Height - 50mm
Back-box Depth - Minimum 15mm recommended
Material - Polycarbonate/ABS thermoplastic resin, with grade UL94 V0 at 1.5mm flame retardency
Finish - High gloss
IDC Labels - Individual colour coded to T568B
IDC Blocks - 4 way industry standard IDC blocks
Conforms to - ANSI/TIA-568-C Category 6 Specification
Click here for the Module Datasheet
Click here for the Faceplate Datasheet