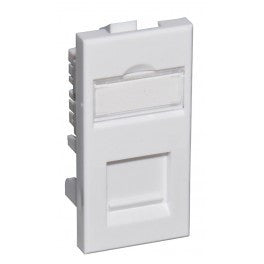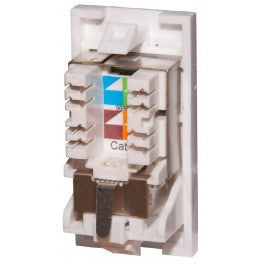 Cat6a FTP Euro Module 25x50mm
SKU: 008-000-002-20
Cat6a FTP Euro Module, 25x50mm Single module
Category 6A FTP Compact Modules have been designed to provide the exceptional performance required to support extremely high speed applications such as 10-Gigabit Ethernet.
Category 6A compact modules can be fitted into single or dual gang Euro faceplates and can be combined with quarter blanks and/or voice modules to provide the required configuration.
The compact design provides one of the shallowest wall outlets on the market; making them the ideal solution wherever back-box depth is a problem.
Category 6A FTP Modules are fully compliant with the ANSI/TIA Category 6A standards and provide an outstanding transmission medium free from the problems of alien crosstalk. When used in conjunction with Datazone Category 6A FTP Patch Panels and FTP Cable the user will achieve a link performance far exceeding the Category 6A requirements.